January 17, 2023
Avi Reichental Avi Reichental is a 3D printing pioneer and one of the world's leading authorities on additive manufacturing, industry 4.0 and exponential-tech convergence. He is the founder, chairman, and CEO of Nexa3D, the maker of the world's fastest 3D printers and of XponentialWorks, a venture investment and M&A firm that is focused on advancing digital manufacturing, health, and the circular economy.
As the former president, CEO and director of 3D Systems (NYSE:DDD), Reichental led the company for over twelve years, building the largest additive manufacturing market leader. Previously, Avi served as senior executive and officer of Sealed Air (NYSE: SEE) for twenty-two years. Reichental is also the former Chairman of Nano Dimension (NASDAQ:NNDM) and served on the board of directors of Harman International (NYSE:HAR) until its sale to Samsung.
In 2013, he was listed by Fortune Magazine as a top 50 business leader and in 2014 he was named by Popular Mechanics as one of the top 25 Makers Who Are Reinventing the American Dream. His acclaimed TED talk about the future of 3D printing has garnered more than 2.6 million views. He is a member of the XPRIZE board of directors, and a former trustee of the Cooper-Hewitt Smithsonian Design Museum.
Avi Reichental
Nexa3D had a great presence at Formnext 2022, and overall, there seemed to be great energy throughout the week and a lot of discussion around sustainability. What were your take-aways both from those visiting the Nexa3D booth and as you traveled the exhibition halls? Did anything surprise you?
Avi: I agree the energy at the most recent Formnext was absolutely electrifying. Despite numerous socio-political, economic, and pandemic related headwinds going on all around us, the vibe at the event was energizing and poised for growth. I actually reflected on this in this recent blog post.
What really stood out to me in terms of sustainability is that expedient "green-washing" abounds at a decibel level that is harmful to its credibility. A lot has been said about sustainability in our industry but once it's all said and done, more has been said than done. Actions speak louder than words and we must do better.
As the industry matures from "rapid prototyping" toward additive manufacturing (AM) at scale, is the conversation changing in what customers are looking for and how they are evaluating additive manufacturing?
Avi: Most definitely. We have entered a radically new realm of customer requirements and expectations. There are a plethora of new considerations around scaling production in a sustainable and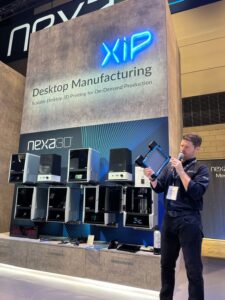 economically attractive way. This is inclusive of an end-to-end workflow, starting with designing for additive in the first place and ending with seamless and user-centered integration of manufacturing software, high performance materials, and automated post-processing workflows. The stakes get much higher as we get further into the production arena.
Often AM is evaluated in a part-for-part cost comparison. How have issues of inventory, supply chain and sustainability changed that conversation over the last three years?
Avi: I think companies are increasingly coming to realization that they cannot continue to operate their operation on part costs alone. We all now know what happens when there is a supply chain meltdown. Part cost does not really matter if you cannot get the part in the first place. The question then becomes, what is your true cost when you take into account expediting fees, higher transportation costs, and worse yet, lost revenue because you couldn't deliver to your customer on time. Sadly, many have learned this lesson the hard way and are now changing their tune when it comes to building a truly sustainable and resilient supply chain. This is where I think additive has a clear opportunity to shine, both from an economic and environmental point of view.
Where do you see the biggest opportunities to increase adoption of AM in the broader manufacturing ecosystem?
Avi: I think Dental space is still a massive opportunity for additive manufacturing. Even though the adoption rate has been steadily climbing over the past few years, I believe the market potential is still vast. I also think more progress is needed on the automation side, especially when it comes to post-processing work. This must be done before we see an order of magnitude higher adoption rate in true manufacturing environments.
What do you see as the major challenges to increased adoption of AM? Technical capability in terms of materials, equipment and software? Lack of understanding in the broader manufacturing world? Failure of imagination in envisioning how to use this technology? Or something else?
Avi: All of the above. I do think designing for additive manufacturing is where we ought to look at first. If a component was not designed for additive in the first place, it will continue to be difficult to prove a business case for additive once it hits the production floor. In more cases than not, it is simply too late at that point.
Nexa3D has announced several partnerships recently. How important is it to partner in terms of growing your business and developing the industry?
Avi: Partnerships are fundamental to our individual and collective success. There are a lot of smart people in our industry, but no one is smart enough to do it alone, and by that I mean truly move the industry forward. We have to do it together. This is why we are committed to keeping our platforms open and working with multitudes of material partners as well as individual users to continue to push the boundaries of what is possible.
Nexa3D was an early member of the AMGTA. How important is it for AM-industry leaders like Nexa3D and AM end-users to support and participate in industry-advancing organizations like the AMGTA?
Avi: I think it's important to not only be an active participant but also an active steward of the organization's mission. I think we need to practice what we preach and hold each other accountable to clear and measurable goals around reducing our carbon footprint as well as educating additive users on how to not only think about designing for additive but also designing for sustainability.
How do you see the additive manufacturing industry growing and adapting over the next 2-5 years? How do you anticipate the drive for more sustainable practices to impact that growth?
Avi: I think we will see some tectonic shifts ahead as many in the industry are either brought together or pulled apart through consolidations, mergers, and strategic divestitures. The AM landscape is about to go through some major changes, in some cases these changes will be incremental but in others they will be industry-changing. In either case, I think there is an opportunity amidst all this change to galvanize the industry on the issue of sustainable industry practices that are visible, measurable, and attainable. I think AMGTA is perfectly positioned to carry that torch, in terms of setting benchmarks and guide posts that will truly move us forward.