February 27, 2023
Francois Minec Francois Minec is Global Head of Polymers at HP's Personalization and 3D Printing Business. In this role he is responsible for leading the polymer teams and the development of the portfolio.
Francois has over 22 years' experience in business development of specialty chemicals and plastics. Prior to his current role at HP, Francois spent 10 years as the CEO of VELOX, a European distribution company for speciality plastics and chemicals. He was also the founder of Advanc3D Materials and was shareholder and President of Setup Performance, which specialised in developing and producing innovative 3D printing materials. Both companies were acquired by BASF in 2018 and Francois spent 3 years as CEO of BASF Forward AM, highlighting a wealth of experience and knowledge of the industry.
Francois holds a Master's degree in Chemical Engineering as well as an M.Sc. in Polymer Science. He also holds an Executive MBA awarded from ESCP Europe. He has lived all over the world in France, Belgium, Canada, South Africa, Spain, Germany, Switzerland and the UK. He is a keen sportsman and is passionate about skiing, snowboarding, sailing and kitesurfing.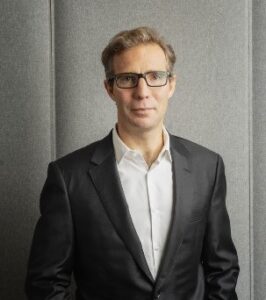 Francois Minec 
We recently had a chance to talk at Formnext. Of everything you saw and heard at Formnext, did anything in particular "Wow" you? Did anything surprise you?
Francois: It was brilliant to be in Frankfurt for Formnext this year and I was humbled to see such huge attendance while meeting with customers, partners, and prospects—both old and new—in real life after having been interacting virtually for so long.
What interested me most was seeing the continuous development of automation solutions. It's clear that the demand is high for fully integrated and automated production lines within the industry. 3D printing is a powerful tool when combined with automation, leveraging industry 4.0 technologies. It was evident at Formnext that we are seeing significant progress, in which AI and machine learning are simplifying the preparation process so that it is uniform and repeatable. This not only improves scalability, but it also enables the creation of complex, high quality parts that are also sustainable, geometrically concise, and customizable.
The optimization and automation of workflows are alleviating software challenges in the additive industry so that new compelling applications can be brought to market and more companies can benefit from everything that 3D print technology has to offer. For example, to advance post processing, HP and AMT announced a new strategic alliance to provide customers with seamless, fully automated post processing support through the entire 3D printing production workflow.
Sustainability and the environmental impacts of additive manufacturing seemed to be much more prominent in conversations throughout the halls, presentations, and interviews. Was that your experience as well? How have you seen that conversation, the topic of sustainability, evolve?
Francois: Sustainability is no longer a trend or a 'cool' feature, but a requirement. In order to remain relevant, organizations today must be looking at their business and workflow processes holistically, to ensure that they're delivering end-to-end solutions with a lower environmental impact. There is a growing acknowledgment among brands and manufacturers alike that traditional approaches of externalizing the environmental impacts of manufacturing processes will not be accepted in a more climate-conscious world.
With this in mind, 3D printing and its intrinsically flexible nature has the opportunity to power a more circular economy by creating new opportunities for sustainable disruption across industries.
3D printing can help produce personalized, more localized, on-demand 3D printed parts that enable using less material, reducing inventory of raw materials, and finished goods, whilst expanding product life through increased availability of spare parts. Using on-demand manufacturing strategies to match production and demand—combining parts to reduce part counts and printing spares and service parts—means we could reduce our inventories and reliance on warehouses around the world. With this, we can decrease the impact of shipping – especially air freight during the R&D phases where traditionally, thousands of miles separate the injection molds from the designer.
HP displayed numerous impressive white 3D printed parts at Formnext. What is the significance of this advancement? How do you expect this to increase adoption of additive manufacturing and within which industries?
Francois: Materials innovation is pushing the boundaries of 3D printing technology and offering our customers even more ways to manufacture than previously possible. Our latest innovations in white parts are made possible by the new HP Jet Fusion 5420W Solution. The new Solution delivers post-processing freedom with white parts that enable more vibrant colors and are ideal for a range of applications across industries. Our early customers using the new solution to produce innovative white applications include DI Labs, Prototal Industries, and Weerg.
Another example is the recently announced ESTANE 3D TPU M88A thermoplastic polyurethane (TPU) from Lubrizol 3D Printing Solutions, exclusively designed and certified for HP's Jet Fusion 5200 series. ESTANE 3D M88A is a flexible and highly durable material suited for production parts and the printing of complex geometries and lattice structures. With ESTANE 3D M88A, softer TPU-based lattice designs can be dyed—rather than coated—to provide a wide range of color choices, resulting in finished colors that are brighter versus other TPU parts. The new material is already being applied in prosthetics and orthotics, and is well-suited for a wide range of consumer, industrial and automotive applications with great opportunities for customization and personalization.
As mentioned in the previous question, 3D printing is increasingly being recognized as a conduit for more sustainable manufacturing. The recent AM Power 'Sustainability of Metal Additive Manufacturing' report confirmed that metal binder jetting is one of the most sustainable production methods . Accelerating innovative designs and products and digitally printing mass quantities of quality parts, HP's Metal Jet S100 Solution is transforming industries and helping scale 3D metals to mass production more sustainably.
We are witnessing entire industries, from industrial to consumer, and healthcare to automotive, looking to digitally transform their manufacturing processes and supply chains in a world where volatility is the new normal. As the promise of additive manufacturing takes hold, the introduction of our new Metal Jet commercial solution, along with innovative collaboration with market leaders like Schneider Electric, GKN, Parmatech, Cobra Golf, Legor Group, and Volkswagen is delivering the blueprint for more sustainable, reliable, and efficient manufacturing.
As we hear talk of and see evidence of slowdowns in specific sectors regionally and globally, how do you think this may impact the additive manufacturing industry? What potential do you think AM has to address slowdowns, disruptions, and uncertainty?
Francois: As we head into a year tainted by recession, rising costs of living and energy prices, the subsequent macro-economic environment is certainly not favorable towards growth, and is delaying decisions on new investments. However, we are continuing to see HP's AM capabilities grow, which is now at a figure of 170 million parts printed, having grown from 100 million only 10 months ago.
We are therefore confident that AM will continue to grow double digit this year, primarily because it is able to address key megatrends, whether that's supply chain disruptions, personalization, healthcare, or a reduction in carbon
emissions. As we look towards the future, the next version of 3D printing solutions will be that much more capable in applying data and digital technologies. We also expect to see more real-world applications that embrace a circular economy, powered by digital manufacturing at 3D printing. New partnerships and collaborations will allow brands to create business value and remain agile against slowdowns, disruptions, and uncertainty, by operating more sustainably, including incentives for the ways that they use, reuse, and dispose of spent powders, parts, and materials.
HP has recently announced partnerships up and down the AM supply chain. How important are these types of partnerships in terms of advancing the overall industry?
Francois: Our partnerships play a hugely important role in offering end-to-end and turnkey solutions to our customers. HP's new strategic alliance with AMT is building a comprehensive approach from printing to an integrated post processing solution, which is a critical step in the adoption of additive manufacturing at scale. For example, using their HP Jet Fusion fleet, GKN Forecast 3D produced 60,000 spoiler closeout seals with BASF ULTRASINT® TPU01
(thermoplastic polyurethane) for General Motors. Innovative vapor polishing and drying processes enabled by AMT cleared a bottleneck, halved production time, and were used to finish parts, eliminating the need for post-print dyeing.
In addition to its partnership with AMT, HP is collaborating across the post processing ecosystem to ensure customers have access to a broad range of alternatives from providers including AM Flow, DyeMansion, and Rösler Group AM Solutions.
We are also relying strongly on our partners in the Digital Manufacturing Network, who are equipping us with the tools needed to take on bold, innovative projects and help our customers
get the most value out of AM production. For example, we work closely with Prototal, who are seeing immediate interest in the new white applications made possible by the latest additions to the HP Multi Jet Fusion family.
You have supported the efforts of the AMGTA in your role at BASF and now at HP. How important is it for industry leaders – both big and small – to support the AMGTA and other industry trade and advocacy organizations?
Francois: We face a set of global complexities that are challenging the foundation on which today's society is built, although none are greater than the ongoing climate crisis. I am proud to work for a company like HP that shares my affinity for sustainable impact and understands the critical role it plays in helping to mitigate the effects of climate change. As a company, we've set ambitious climate goals and made significant progress in reducing plastic waste and using more recycled plastic. Through it all, and especially in the P3D business, we have come to realize that our impact can be broadened when we work with leading industry organizations like AMGTA.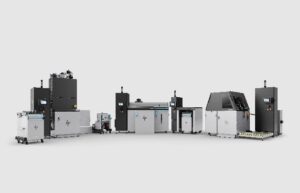 The 3D printing industry is a dynamic landscape benefiting from new and innovative technologies by companies large and small. Working with AMGTA means we can coordinate efforts and have one unified industry voice driving us forward. Not only can we reimagine the role 3D printing can play in a more environmentally friendly world together, but we can also create a space for sustainable manufacturing processes to flourish that inspire ambitious progress.
What else is HP 3D doing when it comes to sustainability?
Francois: Globally, companies of all sizes and across industries, including HP's network of production partners, have signaled the importance of sustainable production practices. In response, HP is taking numerous actions both internally and with its customers and partners to reduce impacts on the environment. For example, as the majority of emissions come from materials, HP is working with its material providers to improve carbon footprints. Elsewhere, HP is offering its customers using polymer-based technologies a new Virtucycle recycling and buyback program by Arkema. The program enables interested HP customers to sell used PA11 and PA12 powders, and printed parts, as opposed to disposing materials via costly, environmentally harmful practices such as landfilling or burning.
HP's mission is to become the most sustainable and just technology company by 2030. We believe that every company's growth must be tied to sustainable business practices, and 3D printing is a huge enabler in that regard. As an active member of AMGTA, HP is committed to accelerating sustainable manufacturing practices internally and across its ecosystem of partners and customers in 2023 and beyond.
Anything else you would like to share with the other AMGTA members?
Francois: At HP, customer centricity is at the heart of our operations. We are constantly thinking about our customers' needs and look at developing appropriate solutions holistically, rather than just focusing solely on the end product. We spend time and effort with our customers, offering a range of services throughout their product evolution – from coming up with the idea and concept, right through to development and finalizing the end product, and in doing so, better inform our customers about the benefits of additive manufacturing.
However, it's important to remember that AM is not a one-size-fits-all approach, and when it comes to sustainability and sustainable manufacturing, each use case is different. Taking this mindset on will enable us to ensure our advice and processes are fact-based, rather than be seen as overselling. For example, if we simply change a big series injection molded part for an AM-printed part, it may actually have a negative impact. If the series is small or medium (we're talking thousands or tens of thousands), then it makes sense to implement AM as we save the mold-making step, which has a huge environmental impact. AM also makes sense for large series if we design for AM and reduce the weight, leading to lower material usage and lower carbon emissions due to decreased needs in transportations. Similarly, if the part allows for on-demand manufacturing, then this avoids overproduction.
The claims and views expressed in this Member Spotlight Interview are not necessarily those of the AMGTA, its staff, its Board of Directors, or member organizations. The AMGTA is not responsible for the content or accuracy of any information or claims provided as part of this Member Spotlight Interview and shall not be responsible for any decisions made based on such information.