August 17, 2023
Tim Lantzsch, Fraunhofer ILT
Tim Lantzsch is Head of Laser Powder Bed Fusion Department at Fraunhofer-Institute for Laser Technology (ILT) in Aachen, Germany. After graduating from RWTH Aachen University in 2018 with a Master's Degree in industrial engineering, Tim worked in different positions at Fraunhofer ILT with a special focus in machines for high-productivity LPBF. Apart from that, the LPBF department at Fraunhofer ILT covers various R&D topics including process & systems engineering, as well as application development for both metal and polymer materials.
Tim Lantzsch 
When we spoke recently, you discussed the important role applied research plays in advancing new technologies, specifically additive technologies. Would you explain where applied research fits in to the research framework and why this is so important for all AM stakeholders?
Tim: As Fraunhofer, we are active in the field of applied research. This means our main goal is to bridge the gap between fundamental research and industrial application. Especially with regard to sustainability in AM companies, which are nowadays confronted with new questions, and information is still hardly available. Therefore, we want to actively collaborate with different AM stakeholders to build-up knowledge on the drivers for energy consumption in AM.
Lasers are obviously the largest driver of energy use within the LPBF process.  How have you addressed optimizing laser usage to produce a more sustainable printing process?
Tim: As a laser institute we are well aware of the energy consumption of laser beam sources. Therefore, we investigate both the optimization of processing strategies as well as the modification of the machines themselves. Additionally, it is crucial to understand other drivers of energy consumption in LPBF machines, such as cooling or heating systems.
As you work with AM technology developers, what technical areas do you see as having the most potential for rapid advancement? Hardware or software?
Tim: I believe that there is still a huge potential for rapid advancements in the field of software for AM. Essentially AM is still very much restricted in terms of design freedom and processing strategies. New approaches that are focusing on elimination of support structures and minimization of defective parts are already under development and will have a tremendous impact on AM.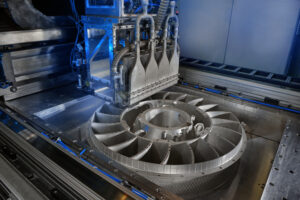 Nonetheless, as an engineer, I still believe that there is a lot of potential in hardware development.
There seems to be a push for more and more lasers in printers. In what ways can more lasers and more powerful lasers deliver more sustainable results?
Tim: You are right, the use of a larger number of high-power lasers seems to be contradictory when you think about sustainability. However, especially when combined with suitable processing strategies, high-productivity approaches may be capable of improving the energy efficiency in AM, meaning the energy input per volume may even be reduced. Nevertheless, this requires that AM users make use of the amount of laser power available in modern machines.
Are the environmental impacts of AM technology taking a more prominent role in the work your team is being engaged in?
Tim: They certainly do. Throughout the last couple of years, we have been confronted with more and more questions regarding sustainability in AM. In the past, AM was considered to be resource efficient because you only produce material where it is needed. However, due to stricter rules on CO2 emissions a lot of companies are now reevaluating their production. Therefore, it has become more important to deliver the relevant data on energy consumption and CO2 emissions in AM.
Can you make any predictions on big advancements in the AM industry, LPBF or otherwise, that you expect to see in the next few years?
Tim: I assume we will see new business models developing around AM. There are already some companies that are rethinking AM, for example by building entire AM factories instead of selling equipment. This could also help to improve sustainability by using equipment more efficiently.
If you could magically solve any big technological challenge your team or the industry faces today, what would it be?
Tim: I would go for eliminating all geometrical constraints in AM. We are obviously already capable of producing very complex parts; however, we are still tied to some design rules. Eliminating these constraints would certainly help to find even more applications for AM.
With any rapidly advancing technology like the field of additive, there are incremental advances and then big leaps. Do you have any insight into that progress and what unleashes the big leaps forward?
Tim: As I mentioned, I see a huge potential for big leaps in the software domain. Especially, rapidly evolving technologies such as AI will help to boost AM. For example, when thinking about algorithmic design or process monitoring and quality assurance AI will help to drastically reduce complexity.
How important is collaboration in solving these industry and technological challenges? How important is it for Fraunhofer ILT to work with developers in the field? How important is it to collaborate with end-users of the technology?
Tim: Collaboration is essential for us. In order to gather reliable data on additive manufacturing processes and application, we need to work with partners from industry, i.e. material and machine suppliers. Furthermore, real application data is needed to assess the impact of AM components throughout their lifetime.
You are working in a very technical field. How important is it to you personally that your work is pursuing more sustainable technologies and ultimately more sustainable manufacturing?
Tim: For me as an engineer it's very important to use technology to create a better future and I think sustainability will certainly be a huge challenge for upcoming generations.
Fraunhofer ILT was an early member of the AMGTA. How important is it for industry and technology leaders to support the AMGTA and other industry trade and advocacy organizations?
Tim: I think it is crucial, that industry and technology leaders advocate for sustainability. Especially for a young technology such as AM, a critical mass will be required to shape the future of the industry.
The claims and views expressed in this Member Spotlight Interview are not necessarily those of the AMGTA, its staff, its Board of Directors, or member organizations. The AMGTA is not responsible for the content or accuracy of any information or claims provided as part of this Member Spotlight Interview and shall not be responsible for any decisions made based on such information.