September 14, 2023
Pieter Ruijssenaars, DiManEx
Pieter Ruijssenaars has a master's degree in business administration. He has a broad entrepreneurial background, both in establishing companies in the digital space and helping start-ups and scale-ups to grow. He is particularly interested in innovative solutions that change old ways of doing things and offer new possibilities that contribute to a better and more sustainable world.
Pieter Ruijssenaars 
DiManEx has an interesting vantage point to view the additive manufacturing sector – between the additive technology developers and the AM users. How has the understanding and demand for AM changed for end-users over the last few years? How is DiManEx enabling your customers to leverage AM?
Pieter: The understanding of AM with users has changed a lot throughout the last few years. The biggest change is that there is much more understanding and acceptance of the technology. The focus with users has shifted more towards the right and effective application of AM. And the need to become more knowledgeable as an organization itself to work with AM, and benefit from it in the broadest sense.
However, we still see that companies view AM in light of separated application domains, rather than as an integrated whole. Some companies use AM for engineering and product optimization. Others to create a more digital supply chain with a digital library of files. For all these domains or purposes for which customers see AM as a solution, we see they require more in-depth internal skills and competencies regarding AM and the broad and efficient application thereof.
The good news is that in some cases we already see customers focusing on (and implementation of) the next level of AM: the integral application of AM, throughout the entire organization, serving multiple goals across different functional domains. DiManEx helps customers to understand and implement that next level of AM application. Our services help customers transition from a 'physical' supply chain (a supply chain based on physical movement of goods) to a 'digital' supply chain (based on a digital library of validated goods) of the future. We do that by providing Data Management services (e.g., data extraction from PDF's and advanced SC & AM analytics), Digitization services (e.g. file conversion, 3D scanning creating digital twins). Engineering & Manufacturing services (Design for AM, on location high quality AM, Additive Casting, validation processes) and Training & Competence development services (AM in supply chain application, design for AM rules, validation process implementation). This allows companies to manufacture and transport less (more local), use less material in their production process, have less cost (warehouse, transport, capital) and at the same time better customer service. Hence, a more sustainable supply chain, both financially as well as ecologically.
DiManEx was an early member of the AMGTA. How important is it to your customers for you to provide more sustainable solutions to address their supply chain objectives and challenges?
Pieter: The days of 'greenwashing' are over. Organizations need to demonstrate significant and measurable results on sustainability (improvement). Especially over the last year, sustainability, as an integral part of our solutions, has become more and more important to customers. We like to see that what we do contributes to a much more sustainable world. As part of our sustainability contribution, we often use the 'R' ladder strategy for circularity (circularity is one, but important, element of our entire sustainability commitment). This ladder can be used to 'measure' the circularity of supply chains, production, and parts handling. The higher the strategy is on the list, the more circular it is. The highest ranking on this ladder is 'R1'.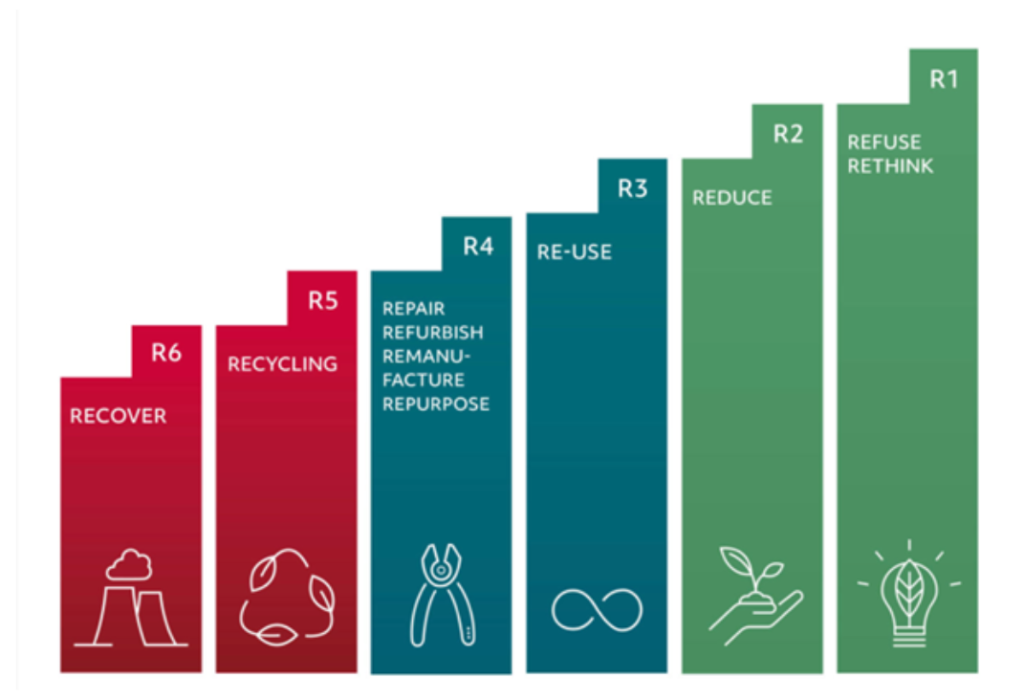 Our end-2-end business model (analytics to identify which parts should be digitized, and print those locally in the right quantity and quality) immediately contribute to the first two levels of the R-ladder: Rethink which parts, when and how much you need to have manufactured. Refuse to buy a Minimum Order Quantity, but now 3D print only the parts you need at the time and place you need them. This leads to a better supply chain performance, as well as a more eco-friendly supply chain.
Measurable effects are less printed parts, less waste, less transport, and less material being used. On top of that, we work side-by-side with our customers and partners to re-engineer existing parts, leading to less material used in the production/printing of parts (with the same quality performance) and, where possible, selecting circular materials in which to print the parts. This is what Levels 3 and 4 on the ladder are.
Finally, we select AM service provider partners that have a recycle process in place by which our customers can have used 3D printed parts sent back to the AM service provider to re-use the material; levels 5 and 6 of the ladder.
When we spoke recently, much of Europe was experiencing record heat, particularly across areas of Spain where you planned to spend your summer holiday with your family. How important is it to you personally to be part of the effort to drive positive environmental impacts? Are you concerned about the world you are leaving your children?
Pieter: Funny you should ask. During that same holiday, like many other moments in the past couple of years, I have had that conversation with them on sustainability (where my kids probably felt it was more of a lecture though). Besides the electric car we have, I try to teach them that making a positive difference for their own future starts with themselves. Advocating Greta Thunberg's message taught at school, is not enough. It starts with your own behavior. 'Trying' to explain to my daughter that buying 4-5 times a year new clothes, doesn't help. To my sons, eating more than their body needs, doesn't help. That the record heat and fires in Spain we experience, are related to their own behavior. And that what their dad is doing, is trying to contribute to that better future of theirs. For kids at 18, 16 and 14 of age it is of course not their prime interest (yet), but by showing examples close to their lifestyle we hope it will resonate and change their behavior at some point in the near future.
There is a lot of talk about sustainability goals in manufacturing and across supply chains. What are companies getting right and what are they getting wrong?
Pieter: Indeed, there has been a great deal of talking in the past few years on it, for sure. In my observation, I see more and more of the attitude 'put your money where your mouth is' with(in) companies. What they are getting more and more right, is that digitization and AM are not a long-term investment or high-cost project but are the immediate means to a better end: a sustainable supply chain both in the sense of financial as well as ecological terms. We show companies how redesigning a solid part into a hollow-structure part, requires less material, is less costly in production, can be just as strong, and can be printed locally to avoid transport and CO2 emission. That improves the financial performance and ecological footprint of their supply chain.
The positive change is that in the past, many would consider applying sustainability goals in their supply chain a cost burden. Today, more and more companies see digitization and AM as serious opportunities to balance financial and ecological in harmony in their supply chain.
What can be done better? Well, I would say there is more to be gained if more companies would acknowledge the pollution of our environment by traditional supply chains has taken years to get to the current situation. And that that needs to change immediately. The great news is that changing from that polluting traditional supply chain to a much eco-friendlier digital supply chain can go much faster and can be profitable, but requires belief, stamina, leading by example and yes…. some investment to make that transition.
Are you able to deliver more sustainable options to your customers without sacrificing efficiency and profitability? 
Pieter: 100%. I would even say that today we are in a much better position to deliver more and more sustainable options, that at the same time measurably improve efficiency and profitability for our customers! On the one hand, the AM market has many more AM technologies and materials that contribute to a more sustainable production process. On the other hand, more and more customers agree to, see the need for, and understand that (re)engineering with AM in mind can contribute to that end, too. The knowledge, experience and processes at the customer side have developed a lot to support the application of the sustainable services we provide. By smartly combining our supply chain expertise and advanced analytics, with Design for AM and sustainability we are able to help customers tick multiple boxes: better supply chain performance (less time lost, better customer service), better financial performance (better TCO business case, serious cost cutting in production) and measurably contributing to a more sustainable world (less transport and CO2 emission by printing locally, less material used in production process, more re-cyclable material used, and a recycle process for used parts).
Where do you see the biggest potential for better environmental impacts?
Pieter: I think it all starts with more 'in company' sustainability thinking along the lines of the R-ladder, regarding their supply chain. The sooner companies start thinking and acting on the first two levels of the R-ladder (Refuse, Rethink, Reduce), the quicker and less costly the effects will be, and the easier it will become to implement. To do that, it requires insights, analytics and adopting Total Cost of Ownership business models based on which business decisions in supply chains can be taken. Data plays a crucial role in the first two levels (Refuse, Rethink, Reduce). That is where one of the bigger pain points in the widespread adoption of Digitization and AM to the benefit of sustainability and the R-ladder concept lies. Lack of (reliable) data in companies, data spread across different business units and (ERP/PLM/PDM) systems, and frequently missing files on parts are some issues that companies face. No or too little data, makes upfront analysis (based on which Refuse, Rethink, Reduce analysis and decisions is possible) on which parts to print, in which quantities, where, and with the right quality difficult. Getting your data to act together allows companies to benefit more from the contribution that the first two levels of the R-ladder offer.
Other contributors to sustainability are obviously to resort to more local production, and to enhance the AM knowledge in companies to be able to think differently regarding design and production of parts.
How important is it for manufacturers to not only look at the part-to-part cost and sustainability comparison but to view the entire supply chain, inventory management, and distribution to understand the full potential of AM?
Pieter: To us, that is critical, and the only way forward. Data (analytics), digitization and AM can play different roles in different parts of the supply chains of companies and allow companies to look at production as part of their supply chain in a more holistic manner. Production cost is only one (sometimes, even small) factor in the Total Cost of Ownership perspective in which supply chains should be viewed. In a similar way, sustainability should also be looked at from the entire, end-to-end, supply chain point of view rather than looking at a single, isolated element like transport, or production method, or material being used etc.
Transitioning from a 'physical' supply chain to a 'digital' supply chain, that makes full use of all digitization and AM capabilities surely is the way forward. This makes the holistic perspective that needs to be applied towards supply chains possible, measurable, and justified.
As you work with manufacturers across many sectors, what trends are emerging? Which industries are leveraging AM to be more competitive?
Pieter: We see several trends. First, there seems to be more of a focus on Design Freedom and Complex Geometries: AM allows manufacturers to create intricate and complex designs that were previously impossible or very expensive to produce using traditional methods. This trend is especially relevant in industries like aerospace, where lightweight yet robust structures are essential. A well-known example is that GE Aviation has used AM to create fuel nozzles for jet engines, consolidating 20 traditionally manufactured parts into a single 3D-printed component. This improved fuel efficiency and reduced weight, leading to substantial cost savings over time.
Another trend we see is the need for more Customization and Personalization using AM. AM enables the cost-effective production of customized and personalized products. This trend has gained traction in industries like automotive and healthcare, where patient-specific medical devices and implants can be 3D printed. In orthopedics, companies like Stryker utilize AM to create patient-specific implants tailored to a person's unique anatomy. This leads to better patient outcomes and faster recovery times.
Another trend we see is that AM is (finally) more used to improve Supply Chain Resilience. Digitization (e.g., creating Digital Twins of parts) and AM reduce the reliance on global supply chains by enabling localized production directly from a digital library of validated parts. This is particularly relevant in industries with complex and fragile supply chains.
Many industries are using AM nowadays. In each industry there are early adopters that have embraced AM already many years ago, and today have well established processes, skills and competencies and use AM indeed as a proven enabler to differentiate themselves from their competition. AM adoption and scaling in companies takes time. The companies that acknowledge that today and invest in that process at an early stage (even when their existing, current business is still flourishing) are the winners of tomorrow.
Do you think the environmental benefits of AM are being fully leveraged for competitive advantage? If not, why is that?
Pieter: No. AM is not being used enough yet for competitive advantage. There are companies with different profiles and market strategies. We talk to companies that do 'experiment' with AM, but because their existing business is still flourishing and thriving, they don't feel the pain enough or need to fully embrace the benefits (and future competitive advantage) AM can offer. "Why should I adopt AM more and faster, my business is going well, and we already have a strong competitive edge?"
The scalable adoption of AM in companies takes time. Time to change processes, targets, KPIs, and most of all; the mindset of your people to work with and get the most out of AM. This "Change Management" in organizations, according to us, is the biggest hurdle for widespread adoption and scaling of AM. Your business might be doing well now, but if your less successful competitors do embrace AM and take the time to embed it fully in their organization, they might be taking over your leading position in a couple of years.
Another area where AM is not being used as competitive advantage is in the workforce of companies. There is still a strong lack of knowledge and competence regarding AM present in many organizations. That knowledge, for instance with engineers, is required to e.g., validate 3D printed parts, redesign parts to make them stronger, cheaper in production or more sustainable. Companies are missing an opportunity here. In a market in which it is difficult to find (and retain) good employees, AM skills and competence development programs are not used yet as an instrument to attract and retain good people.
And finally, we feel the environmental benefits of AM are also not being leveraged for competitive advantage enough. Using AM and measuring its sustainability effects allows companies to position themselves more and more as committed and proven sustainability contributor. And will make them more attractive as an employer.
How do you think the AM sector will change over the next 2-3 years? What impact do you think that will have on the broader manufacturing sector in Europe and globally?
Pieter: The AM sector overall has gone through various phases (comparable to Gartner's hype cycle) over the past 5 to 8 years. Recent reports have shown that some major players in the AM market last year took serious (market cap) hits, and that we have seen (and continue to see) some consolidation in our sector. We expect that to continue for the next few years.
On the other hand, the good news is that our conversations with customers at the same time show us that AM has become more and more generally accepted and applied. That structural processes (supporting widespread adoption and scaling of AM), skills and knowledge development regarding AM are increasingly being implemented. Even though this development has slowed down a bit due to the uncertainty that results from socio-political turmoil, recession in some parts of the world etc. But I feel the trend is moving in the right direction and is here to stay. The more social, political, and economic stability there will be, the faster companies will invest in 'change management" in their organizations that support the adoption and scaling of innovations like AM.
What are the primary challenges you see for the AM sector?
Pieter: The status of AM technology is not the inhibitor for widespread AM adoption, but rather the need for and willingness to change in companies. Yes, innovative technology needs to be proven, however, looking at how and where AM is used nowadays (from Aerospace to medical), I'd say that has been done.
Any innovation like AM needs thought leaders, ambassadors, and evangelists in a company to bring adoption to growth and scaling. Creating such ambassadors in companies is part of our joint responsibility. But that is not enough. There are at least two more challenges we face.
First, many companies over the past decades have structured their processes, KPI's, targets and skills based on traditional technologies and business models. AM typically works across different business units, departments (engineering, purchasing, operations, etc.). Silo structured organizations are not well tailored to supporting AM. Changing this takes time but is necessary to scale AM in an efficient way. As adoption of AM in a company's DNA takes time (change of mindset and behavior), companies should start now with implementation of AM, to make sure it works like a charm and provides for all the benefits by the time "the business does NOT go that well".  The second challenge therefore is the existing (often still profitable) business model of companies. That often reduces the need at the highest level to change.
If things go well, companies have less attention for innovations or new and different business models. This is enhanced by targets and rewards linked often to existing business models and short-term performance only. But digital supply chains and AM are here to stay. Competitors (whose business might not go that well) are the first to embrace and scale new technologies and business models, so that in due time they outpace laggards. We stimulate companies to, initially at arm's lengths outside their core business and company, learn from and grow AM, so that in due time they are in a position to have that future revenue stream or business model as their new, core business model.
What advancements would you like to see from the AM technology and materials developers?
Pieter: I'd say for the AM technology and materials developers, the key words are: more and faster.
More eco-friendly materials: developers should prioritize eco-conscious materials that align with AM processes while reducing environmental impact.

More Sustainable Processing: advancements must minimize energy usage, waste, and optimize production methods for sustainable manufacturing, and promote these advancements to the market more.

More Circular Economy Integration: develop more materials that support reuse, refurbishment, and recycling, embracing circular economy principles. Contribute to developing processes for intake of used products to be re-used for their material.

More Renewable Energy: innovate AM systems compatible with renewable energy sources for more eco-friendly production.

Waste Reduction: enhance deposition techniques, support structures, and monitoring to minimize material waste.

Biodegradability and Emissions: develop biodegradable materials and lower emissions through innovative heating and cooling methods.
Finally, I think the industry can't do it on its own. Governments should help to accelerate advancements in AM by policy making, applying financial (e.g., tax) instruments and more. Faster and bigger advancements in AM, supported by policy makers and manufacturers will lead to faster and bigger sustainability benefits from AM, and will contribute to a government's sustainability agenda.
That way, I can have more fun conversations again with my kids during our holidays.
Anything else you would like to share with the other AMGTA members?
Pieter: Overall, I'd say we all can benefit more from cooperating more and faster together. AMGTA members that are complementary to one another in terms of services or markets should seek cooperation more and jointly approach customers and prospects. Bigger companies should work more side by side with smaller (usually more innovative) companies or scale ups, and apply the speed and style (Fail fast, Learn fast, Scale fast) of the smaller company.
More specifically, I think we would do all of us a favor if we would jointly strive for more and faster validation of new technologies and materials and bring that to the attention of our customers in a reliable and trustworthy manner. That way customers can focus on the application validation of the 3D printed parts in their machines, cars, equipment (in new more sustainable AM materials) rather than spending time on the technology and or material validation.
The claims and views expressed in this Member Spotlight Interview are not necessarily those of the AMGTA, its staff, its Board of Directors, or member organizations. The AMGTA is not responsible for the content or accuracy of any information or claims provided as part of this Member Spotlight Interview and shall not be responsible for any decisions made based on such information.