July 19, 2022
Wilfried (Fried) Vancraen, MSc, MBA, born in 1961 in Duffel, Belgium, began his career in 1985 after receiving a Master of Science in Electro-Mechanical Engineering. Working as a Research Engineer and Consultant at the Research Institute of the Belgian Metalworking Industry, Fried discovered 3D Printing. Passionate about this new technology and firm in his belief that it could help create a better and healthier world, he founded Materialise in July 1990. Fried holds several patents related to the technical and medical applications of 3D Printing and remains committed to using the technology to make positive changes in people's lives.
In recent years, Fried has been awarded the RTAM/SME Industry Achievement Award, the highest honor in the 3D Printing industry, has been selected as the most influential person in Additive Manufacturing by industry professionals and TCT Magazine, and has been listed one of the 5 leading players in his sector by the Financial Times. He is also the recipient of a 2013 Visionaries! Award from the Museum of Art and Design in New York. In 2019 he received a Faculty Honorary Professorate from the University of Leuven (Belgium).
Wilfried (Fried) Vancraen

Materialise was one of the earliest Participating Members of AMGTA, joining in October 2020 to support the advancement of sustainability in the Additive Manufacturing industry. How has your involvement as an AMGTA member benefited Materialise and the broader AM industry?
Fried: The creation of the AMGTA was an important step for our industry. We'd felt that an organization such as this had been missing for some time. It puts a much needed focus on sustainability in AM. We are also a supporter of the UN Global Compact and one of our sustainability priorities is SDG 17, which is focused on partnerships. We strongly believe that meaningful change cannot happen in isolation, that it requires the sharing of knowledge and expertise and the AMGTA provides both a platform for such sharing and cooperation as well as new research to help drive the industry forward in a more sustainable way. A good example is our partnership with Arkema to recycle our PA12 waste powder into injection molding pellets.
What do you see as the most pressing sustainability challenges facing the AM industry? How should these be addressed and how is Materialise doing so?
Fried: A first challenge will be to change some of the common perceptions about the sustainability of AM. A survey by Materialise indicates that "76% of (Chinese) manufacturers find that 3D printing is a more sustainable way to manufacture products when compared to conventional manufacturing technologies." However, it is not that simple.
A Life Cycle Analysis (LCA) by BASF and Materialise that compared the environmental impact of three 3D printing technologies with a conventional manufacturing technology, indicates that for large series of identical products, 3D printing is currently not the most sustainable choice and has a more negative impact on climate change and the depletion of fossil fuels than the conventional manufacturing technology. That same LCA indicated that the biggest contributors to the carbon footprint, expressed in CO² equivalents, are the energy consumption of the printing process and indeed emissions related to the production of materials.
Compared to a few years ago we do see a change in perception and more people are starting to question the inherent sustainable nature of AM. At Materialise we believe that the question is not whether 3D printing is a more sustainable manufacturing technology. The question becomes: what can we do to make 3D printing more sustainable?
In our view, there are 3 things companies can do:
1. Organize Yourself in a Sustainable Way
The same LCA taught us that one of the most impactful changes is to switch to renewable energy. At Materialise headquarters for example, we have maximized the amount of solar panels and we operate all our processes on green energy, drastically reducing our carbon footprint.
2. Create Transparency 
A recent report by Roland Berger about the sustainability of AM concluded that: "currently, we do not have sufficient transparency to make blanket statements about the climate-friendliness of AM". We agree with that assessment and that's why it's so important to invest in LCAs.
3. Innovate and Invest
We also believe that continued investment in innovative technologies is key to establish Additive Manufacturing as a truly sustainable manufacturing technology. Recent innovations allow us to drastically reduce the need for virgin powder and also reduce what ends up as waste.
We will already start seeing the results of this increased effectiveness this year with a reduction of up to 600 tonnes of CO2 in total in our PA12 consumption. In 2020, Materialise announced Bluesint PA12, a material innovation that makes it possible to 3D print with up to 100% re-used powder. With Bluesint, powder that would normally be wasted can be given a second life to make new parts.
It's been said that better data, more research, and transparency are critical to move the AM industry forward. First, do you agree and, if so, why are these so important? How does this relate to the work you're doing at Materialise?
Fried: The lack of LCAs in combination with the wide variety of technologies and materials makes it hard to make broad claims about the sustainability of 3D printing in general or about specific stages of the printing process. For example, Materialise runs one of the largest 3D printing factories in the world and we only receive limited information about the carbon footprint of our feedstock (i.e. the material we print with, including PA12, the most common material for SLS printing). So uncertainty remains. At the same time, the 3D printing landscape is broad and one single LCA cannot cover the various technologies and materials out there so it is important that we continue to invest in more and more diverse LCAs.
You recently announced advances in sustainable eyewear with 100% bio-based 3D printing material from castor beans. Why is this so significant?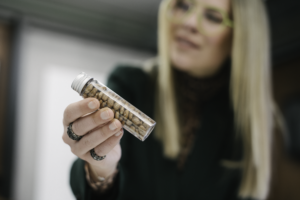 Fried: Earlier this year, we introduced Polyamide 11 (PA11), a new bio-based material for 3D printed eyewear, that is 100% recyclable. The new material is sustainably sourced from a plant that grows on wasteland in Gujarat, India. Its seeds, castor beans, are pressed into oil and polymerized into powder that is used to 3D print frames. The new material brings a reduction in CO2 of nearly 50% compared to production with PA12.
3D printing, with Ultrasint PA11, is the driving force behind a brand-new collection of sustainable, 3D-printed eyewear by leading Belgian eyewear brand Odette Lunettes in collaboration with Ex-World Champion cycling Tom Boonen.
But again, we need to be mindful about making broad claims about the sustainability of one material compared to another. While PA11 has a more favorable impact on climate change and fossil depletion when compared to PA12, it scores less favorable on several other relevant metrics. Having access to this kind of insights allows us to remain critical, avoid greenwashing and make better informed decisions.
How do you see world events and increased demand for more sustainable practices and products steering or leveraging the AM industry over the next 2-5 years?
Fried: The increased focus from new upcoming ESG regulations both in Europe and US (CSRD, SEC) will undoubtedly accelerate the development of more sustainable practices and will force companies into being more transparent and accountable about their initiatives. At the same time, as part of the "race towards zero carbon emission", customers will come to expect carbon neutrality from the companies they buy products from, and more transparency about those products. There is also an economic element. With increasing prices for raw materials, companies will need to become more efficient with their materials. This will increase the need for more circular production processes, reducing or eliminating waste, better recyclable products and last but not least, more transparency throughout the entire supply chain, as companies hold each other responsible for becoming carbon neutral and material-conscious.
Anything specific we should be watching for from Materialise in the next year?
Fried: We are working on a tool that will provide manufacturers insight in the carbon footprint of the products they 3D print. This will allow them to be more transparent towards their customers about the carbon and material footprint of the 3D-printed parts. This capability will be included to our Co-AM platform, which help companies to run the most efficient, repeatable, automated and controlled process to mass-produce identical or customized products.
Anything else you would like to share with the other AMGTA members?
Fried: In the second half of the year, we will announce our Materialise Sustainability Roadmap, which will set concrete sustainability targets for the coming years. In addition, we are well on track towards achieving our existing objective to reduce our carbon footprint by 50%, compared to our baseline year 2019. In 2021 we achieved already 38% reduction compared to this baseline and we will be well over 40% in 2022. We hope more AM companies will join us in systematic Global Compact reporting. It is a framework that motivates our employees to really make a difference, improving our sustainability performance year after year.