December 1, 2022
Dr. Eliana Fu is Industry Manager: Aerospace & Medical at TRUMPF Inc. Eliana Fu has a master's degree and PhD in Materials Science from Imperial College. She performed post-doctoral research at Loughborough University (UK) and Clemson University (USA). After working extensively in the Traditional Manufacturing world with TIMET and SpaceX, she jumped to Additive Manufacturing at SpaceX and Relativity Space. She served as an advisor to Los Angeles Mayor Eric Garcetti's Advanced Manufacturing Committee. She was recently awarded the TCT Women in 3D Printing Innovator Award for 2022 and is a member of SME's Additive Manufacturing Technical Community as well as serving on the Technical Advisory Board of IperionX.
Eliana Fu 
From your vantage point at TRUMPF, how important is it that industry leaders – both large and small – communicate and demonstrate their commitment to more sustainable practices both internally, and in the products and services they provide their customers?
Eliana: Sustainability is a core concern for TRUMPF. About two years ago, TRUMPF adopted an integrated climate strategy aligned with the 1.5 degree reduction path of the Paris Climate Agreement. The company is investing 80 million euros by 2030 to reduce emissions of its locations by more than 50 percent, for example through improving the energy efficiency of its buildings, shifting to 100% renewable electricity and equipping the roofs with solar panels. TRUMPF is also working hard to reduce emissions in the upstream and downstream value chain. To me personally, it just makes sense to approach all aspects of manufacturing with thoughtfulness in regard to sustainability. We are trying to be intentional with how we approach everything from our building structures, how our staff are accommodated in a communal/office/lab setting to even shipping products to customers – how to lower our carbon footprint and save costs, yet provide customer delight, is a very difficult balance, but one worth doing.
How has TRUMPF's involvement in AMGTA benefited TRUMPF and how does it then benefit your customers? And how has the collective AMGTA movement benefited the broader AM industry in pursuing more sustainable practices?
Eliana: As a family-owned business, sustainable manufacturing is a core concern for TRUMPF, and we are glad to support AMGTA's goal of promoting the environmental benefits of additive manufacturing. Being part of the AMGTA is an important factor in engaging with the AM industry. Again, to me, it just makes sense. Sustainability really is a key factor in making AM a more established and accepted technology, driving down waste and energy usage, and making the whole process more effective.
Your involvement with the AMGTA predates your arrival at TRUMPF. Why was it important to you to connect TRUMPF with the AMGTA?
Eliana: Yes, I came across AMGTA when I was at Relativity Space and when I joined TRUMPF, I just saw that as another way to ensure that we keep up-to-date with the AM industry's goals in sustainability.
When we spoke, you talked quite passionately about the need for curiosity and a spirit of collaboration and cooperation to move the overall AM industry and particularly the sustainability movement forward. Why is curiosity, collaboration and cooperation so important and how can we all foster than both internally and across the industry?
Eliana: I think that the human species is naturally curious – that's part of our evolution and learning. We're at the point in the AM industry where 3D printing is no longer called "rapid prototyping.", It's no longer a fad. Collaboration and cooperation must take place if all of us are to succeed.
As you engage customers and users of TRUMPF's systems, are you hearing a change in their inquiries and expectations around environmental impacts? Is the conversation become more informed? How do you see your customers promoting those benefits to their customers?
Eliana: The first thing I hear asked is, can the equipment/system do the job being asked of it? That's first off, swiftly followed by a discussion of price and lead time. As people get to know us, the conversation does drift towards the subject of sustainability and carbon footprint – people are very aware of these impacts. They want to know how energy costs affect the total cost of ownership, especially in challenging financial times.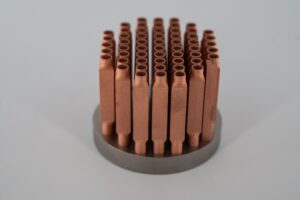 How do TRUMPF's product offerings provide their customers with opportunities for more sustainable manufacturing?
Eliana: Sustainability can come in various steps. One major step to me, involves reliability, repeatability and safety in AM. Let's consider print failures. When a print job fails due to power outage, recoater blade damage, or inadequate gas flow, or the final print distorts from residual stress, all of these are failures. Failures are bad for the environment as they consume energy, material and worst of all, engineering time. Time is also a resource that should be thought of from a sustainability point of view. I think it's part of the machine manufacturer's responsibility to continuously improve the product so that print jobs and parts don't fail, thereby ensuring that the entire process of AM is more sustainable. TRUMPF definitely has a few advantages in terms of laser wavelength (Green and IR), improved powder handling, multi-plate changeovers on the smaller LMF machines, and a pre-heated build plate on the larger LMF machines.
In your experience across the industry, do you see companies exploring AM for strategic business reasons and then discovering the potential environmental gains or are they searching for sustainability gains and discover AM as a potential avenue for those environmental benefits?
Eliana: Manufacturers are trying to make things better, faster, cheaper, and more reliably, but the quality needs to be there. If used correctly, AM can offer advantages over traditional manufacturing in terms of only using what you need and reducing waste Of course, the key phrase is: "if it's used correctly." Remember, at this time, we can't possibly 3D print everything, but we can do it where it makes sense.
Is there anything specific you see holding the AM industry back in terms of wider adoption? If so, what are your suggestions to overcome those obstacles?
Eliana: Not everything can be 3D printed and not everything SHOULD be 3D printed. As I said previously, AM should only be used where it makes sense. In many cases, the feedstock is not there, or we haven't qualified the material or the process. One of the disadvantages of AM is that there isn't 75+ years of data from which we can draw. That means we need to work together in collaborative ways to share the qualification process. Together we can start to build a collective pool of data that will be useful as more companies adopt AM.
Do you see sustainability "quick wins" for companies throughout the AM ecosystem?
Eliana: I think everyone wins when we think about reducing waste, energy and costs through better designs, improved processes, and machine design that extends to also reducing operator and engineering time on failures. The opposite of failure is winning.
Anything else you would like to share with the other AMGTA members?
Eliana: We would be happy to have a discussion with people on any of these topics, just find us online at www.trumpf.com (or in person at an AMGTA event) or send us an email.